Entrust Employee Spotlight: Nerissa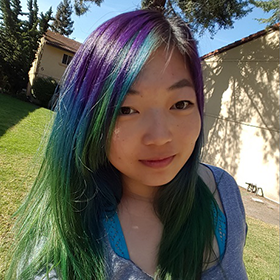 Estimated reading time: 1 minute
Meet Nerissa, she's a Cash Management Associate in the Cash Management department at Entrust. She was born and raised in Oakland and is proud to be a Bay Area native. The atmosphere and culture is her favorite part of working at Entrust. She says all her coworkers are friendly and helpful and feels like her job itself feels stress free while still feeling highly productive.
Nerissa posseses many special skills which include printmaking (such as silk screen and relief), bargain hunting, adaptability and being resourceful. Her favorite types of food include anything with bold flavors, including Thai and Mexican, and also most types of noodles. On her free time, Nerissa is interested in all things beauty (skin, hair, cosmetics, etc.), art, video games (mostly Rocket League these days), and making new friends. The California weather, food and the diversity is what she loves most about her home state.
A fun fact about her: "My hair color changes every day!"
Thank you Nerrisa for taking part in our Entrust Employee Spotlight. We enjoy learning more about our employees and what makes them special to our company. To learn more about employees at The Entrust Group, please visit our Entrust News page here.
To provide personal service, Entrust maintains local offices that are staffed by professionals with first-hand experience related to self-directed IRAs, real estate and financial services. The local offices provide educational seminars to help clients and professionals understand the broad spectrum of investment options, regulations, and requirements, and the benefits of self-direction. To learn more about our local offices and representatives, visit the locations page.