What You Need to Know About Investing in Precious Metals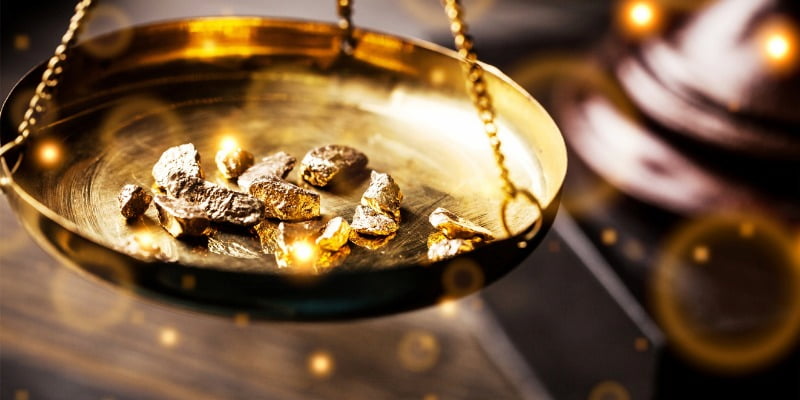 Estimated reading time: 9 minutes
So, why invest in precious metals?
You have lots of other options for your Self-Directed IRA—real estate, private equity, notes—and you may already be familiar with some of them.
Apart from buying jewelry, fancy watches, and perhaps coins, many people have not been exposed to precious metals as an investment class.
Yet, gold and silver were among the first investment assets, and served as a form of currency for centuries. Indeed, they are still regarded as a store of value, a hedge against inflation, and protection against currency deflation. After all, central banks can print more paper money, but they can't produce more gold or silver.
Platinum and palladium are also precious metals used for investment purposes. They are especially valued for their industrial applications. Like gold and silver, they offer additional opportunities to diversify your portfolio.
Precious metal prices tend to act in opposition to the stock market: when equity prices are low, gold typically rides high.
Precious metals are referred to as such because they are rare. All the gold, silver, platinum, and palladium in the world are finite. Although these resources have yet to be mined out of existence, getting to the lodes of precious metals that remain in the Earth's crust is expensive, time-consuming, and comes at great environmental cost—making these metals even more precious.
Assess Your Precious Metal Investment Options
When it comes to the form in which the precious metals are purchased, investors have numerous options.
Investors can own bars, rounds, and a variety of coins issued by national mints and state issued coin programs. The American Eagle coin was made available under the Small Business Jobs Protection Act by congress to be held under an IRA. Other coins which are treated as bullions, must meet certain purity/fineness to be held under an IRA.
Now let's take a closer look at the four precious metals that attract investors:
Gold

is one of the rarest precious metals. Experts estimate that from the beginning of human history to the close of 2011, approximately 165,000 metric tons (nearly 6 million ounces) was mined.
While gold is still mined, it's at a much slower rate than in the past. Of the gold being mined today, about half is used in jewelry, 10% is used by industry, and the remaining 40% is held in investments. Much of that 40% is held by the world's central banks, which store their liquid reserves in gold.
Gold bars and rounds must be produced by an accredited refiner, assayer, or manufacturer or by a national mint to a fineness of .995+ purity.
2. Silver, while still rare, is more plentiful than gold. Estimates place the global reserve at 777,274 metric tons, with an estimated 3,732 tons stored as bullion in private hands. Silver is also valued for its industrial uses in electronics, solar panels, and medical devices.
Silver bars and rounds must be produced by an accredited refiner, assayer, or manufacturer or by a national mint to a fineness of .999+ purity.
3. Platinum, now mostly produced as a byproduct of nickel and copper mining, is one of the rarer elements. There are few deposits of pure platinum. Its resistance to corrosion makes it very sought after for industrial purposes. Platinum is an essential component in catalytic converters and an array of electrical devices.
Its price can rival gold for volatility. Historically, its price has increased when industrial production ramps up.
Platinum bars and rounds must be produced by an accredited refiner, assayer, or manufacturer or by a national mint to a fineness of .9995+ purity.
4. Palladium is considered precious only for its industrial uses and as an investment asset. It is one of the rarest precious metals. Bars and rounds of palladium must be produced by an accredited refiner, assayer, or manufacturer or by a national mint to a fineness of .9995+ purity.
Do Your Due Diligence
From the Lost Dutchman's Gold Mine to the "discovery" of gold in seawater there are plenty of scammers and hoaxes at play in the precious metals space. That makes it especially important to conduct thorough due diligence before you purchase precious metals and in how you handle them as investments.
It is important to buy approved metals from reputable dealers, and to store the physical metals with a depository approved for IRA use. The Federal Trade Commission offers due diligence guidelines you can use prior to investing in gold.
You can also hold equities in mining companies in your IRA or other tax-advantaged retirement account, which is an indirect way of owning precious metals. This method can expose you to market volatility and political risk in addition to the usual price swings of precious metals. Conducting due diligence on these mining companies is of equal importance to conducting due diligence on the metals themselves. Read more about due diligence.
And of course, your due diligence extends to researching and comparing the services of the IRA-approved depository that will store your metals, as well as the IRA administrator.
Assemble Your Team
Special parameters must be met to ensure that a precious metal can be held within your IRA, so you'll need a team of specialists to help you during the investment process.
The first team member you'll need is a Self-Directed IRA administrator. They handle the documents you need to establish, the funding, and complete transactions in your Precious Metals IRA.
A self-directed administrator that administers precious metals within IRAs will have a precious metals platform with knowledgeable providers you can choose from, including a selection of depository institutions that can hold your precious metal investment. This administrator role can be played by The Entrust Group, which administers nearly $3.3 billion in total assets.
Since your account is an IRA, the administrator is also responsible for recordkeeping and ensuring that all necessary reports are submitted to the IRS in an accurate and timely fashion.
A reputable administrator won't try to sell you particular investment products; those choices are yours to make. A good administrator will help you become a more knowledgeable investor by providing educational resources and materials to expand your understanding of the alternative investment space. Explore our Learning Center.
Look for an administrator whose staff is well trained and current in their understanding of the rules and regulations governing Self-Directed IRAs. Ask about the administrator's training requirements for staff as part of your due diligence.
For example, all staff at Entrust are up to date in their knowledge of state and federal banking regulations and requirements. Most of our staff have designations through accredited organizations such as the American Banking Association such as the Certified IRA Specialist Professional (CISP) designation.
Next, you will need a reputable precious metals dealer. These are individuals or firms that buy and sell precious metals. This can be a person who is available to make a bid and offer a price on gold or silver. A dealer could also be a firm with an inventory of gold, for instance, that it sells to coin dealers, jewelers, or investment companies.
Interviewing your dealer to ensure they understand the restrictions regarding the types of precious metals that can be held in an IRA should be a part of your due diligence process.
Your precious metals dealer (or dealers, if you choose) will buy and sell the physical metals owned by your Self-Directed IRA.
The Federal Trade Commission offers this advice when looking for a precious metals dealer:
Check the dealer's ratings and credentials. What professional associations do they belong to? See if the dealer is listed on the Better Business Bureau website or the Industry Council for Tangible Assets.
Ask if the dealer offers gold coins or bars. Do they offer silver, platinum, or palladium?
Verify that the coins being sold by the dealer are of the exact quality or fineness allowed in a Self-Directed IRA per IRS rules.
Lastly, you will need to store your precious metals with a depository approved for Self-Directed IRA usage. You may not take possession of the metals while they are held in the IRA. Metals purchased by an IRA are transferred directly into the depository under the name of the IRA.
If you take physical possession of your precious metals for any reason, it is considered a distribution from your IRA, which is a taxable event and may be subject to the early distribution penalty.
Ask depositories if they've been approved for the storage of IRA assets.
Entrust works with four IRA-approved depositories in the US:
Delaware Depository Services Company (Bridgewater, DE)
Dakota Depository Company (Fargo, ND)
Idaho Armored Vaults, LLC (Nampa, ID)
Understand the Process
Once you've done your due diligence, selected the type of metal you want to invest in, the dealer from whom you'll buy it, your IRA administrator, and an IRA-approved depository, the actual investment process may take three weeks from start to finish.
Here's what the process looks like when you choose Entrust as your IRA administrator:
Open your Precious Metals IRA online in 10 minutes. Note that you cannot use physical metals that you already own outright to open the account. If you already own precious metals in an IRA elsewhere, you can transfer that IRA to an Entrust Self-Directed IRA of the same type.
You can also fund your IRA via a direct rollover from an account you have through a previous employer's retirement plan such as a 401(k), 403(b) or governmental 457(b) plan. Once the cash is received, you can use those funds to purchase precious metals.
If you wish to make a contribution (only cash contributions are allowed) the cash can be used to purchase the precious metals.

Direct your IRA custodian to purchase the metals from the dealer. If using funds in your Entrust IRA, you will instruct Entrust to send the money to the dealer you have chosen. You will also need to choose a depository to hold the precious metals you purchase with your IRA. Compare the services and costs of the depository as part of your due diligence.
The dealer sends the metals to the depository.
The depository verifies that the metals received match the invoice.
The depository emails Entrust confirmation of delivery, reporting the type and quantity of metal received.
Entrust enters the information into your account on the secure Entrust Client Portal. If any discrepancies are found, we work directly with the depository and dealer to resolve them.
After that, you can monitor your account on the Entrust Client Portal.
Mine the Possibilities of a Precious Metals IRA
If you're ready to add precious metals to your portfolio of Self-Directed IRA investments, talk with one of our trained professionals today or visit our Precious Metals IRA center.