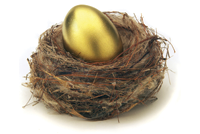 Over the years, I have encountered many people who considered any investment in gold to be foolhardy.
However, more and more of them are beginning to change their minds. As their fears grow about the market and the future of the U.S. dollar, many are now seeing gold as a way to protect the purchasing power of their hard-earned savings. Let me show you how right they are.
For the past three decades, ASI has been educating friends, family, clients -- and anyone else who would listen -- about gold. We view it as a long-term store of value that will protect their savings from inflation, the devaluation of the dollar, and a continuing increase in the money supply.
When Michael Checkan and Glen O. Kirsch talked about gold over 30 years ago, it was not as an investment, but rather as an insurance policy. It was a way to protect assets in a world of fiat money, where currencies were no longer backed by gold. ASI has warned for years that the United States and much of the rest of the world are headed for an inflationary currency crisis.
While we didn't promote gold primarily as an investment, it has certainly turned out to be a good one. In the past decade, gold produced a 10-year return of nearly 500% in U.S. dollar terms. By comparison, in that same 10-year period, investors earned 115% from bonds, 61% in real estate and 23% in equities.
Let me underscore what you just read: Over the past decade, people who bought gold saw the value of their investment rise more than 20 times the gains in their stock holdings.
Sound impossible? Here's a record of gold's performance for the past 10 years. You will see that it made gains every single year of the decade. There is no other asset class that can make the same claim.
As someone who earns his living selling precious metals, I am delighted to be able to share this performance with you. It's been reassuring to see so many financial advisors now recommend a core position in precious metals for their clients. And that it is now easy (and legal!) to own gold and silver in a self-directed retirement account.
A POWERFUL COMPARISON
Let me tell you about a recent case study. In January of 2000, Alex, Carl, and Jared each decided to invest $50,000.
Alex had been told that the best place to put his funds was the stock market. So he decided to buy five of the most widely held stocks at the time. He purchased an equal dollar amount of AT&T, Coca-Cola, GE, Microsoft, and Merck. After 10 years (and more volatility than he ever dreamed he would see), his net gains came to just over 1%. His $50,000 was now $50,580, not including dividends.
Carl decided to diversify his portfolio by owning two classes of assets. Carl invested $35,000 in the same five stocks Alex purchased. But he also put 30% of his money, or $15,000, into gold.
In January 2001, gold was at $280 per ounce. So with his $15,000, he was able to purchase 53.5 ounces of gold in the form of Gold American Eagle coins. By January of 2011, gold bullion was at $1,415 per ounce. (It's now a lot higher.)
Since Carl had 53.5 ounces of gold, he saw the value of his bullion go from $15,000 to $75,702.50. So while his stocks gained 1% over that 10-year period, his gold went up more than 400%. Rather than a pathetic $580 gain, his account was up $61,108.50!
Our last investor, Jared, decided to make an even bigger bet on gold than Carl did. He put 50% of his inheritance into the same five stocks Alex and Carl purchased. But he put the other 50%, or $25,000, into gold.
At the end of the decade, Jared's $25,000 investment in gold coins had increased 405%, to $125,500. In other words, his diversified portfolio more than tripled during the decade.
While we can't promise that gold will continue to be the best-performing asset over the next 10 years, we feel confident in predicting that it will continue to do what it has done for the past 5,000 years – serve as an excellent store of value. And perhaps the best insurance program you can own. What other insurance policy made 400% over the past decade?
About Asset Strategies International
For nearly three decades, our opinion has been the same: Don't keep all of your assets in one country, one currency, or one investment. Since our founding in 1982, we have been specialists in the areas of precious metals, foreign currencies and offshore asset protection. We offer a full range of precious-metals services, buying and selling bullion gold, silver, platinum and palladium in coins, bars and certificates, as well as offshore storage and numismatic coins.
Asset Strategies International was founded in 1982 by Michael Checkan and Glen O. Kirsch. From day one, ASI has stressed putting the customer first. We do not use commissioned salesmen; never have, never will. Our client relations staff's only job is to help our clients achieve their financial goals.
Our goal today, as it was in 1982, is to show you how to Keep What's Yours. Please let us know how we can assist you.

Seth Peretzman
Asset Strategies International
800-831-0007 or 301-881-8600
info@assetstrategies.com
www.assetstrategies.com
Author: Seth Peretzman, Asset Strategies International