5 Reasons Why Real Estate Investing is Simpler with the myDirection Prepaid Visa® Card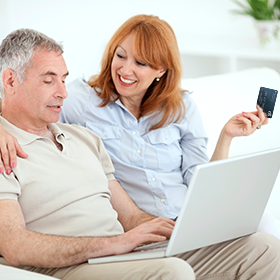 Estimated reading time: 1 minute
Who needs another piece of plastic in their wallet? You do, if you own and manage real estate using a self-directed Real Estate IRA. Our innovative Entrust myDirection Prepaid Visa® Card gives investors an easy, fast, convenient, and cost-effective way to pay for one-time or repeat expenses.
But don't take our word for it. myDirection Prepaid Visa® Card users agree that it:
Provides instant access to the funds in a Real Estate IRA:" Pure convenience! It would be almost impossible to get a plumber to do work at your property and wait two weeks for payment."
Eliminates paperwork: "Using the card is better than having to submit a check request for everything."
Saves money: "I . . . use it to pay the electric bill without having to pay the extra fee involved with Entrust writing a check."
Is easy to use: "The one time I made a mistake, I got a call from Entrust and the problem was resolved."
Pays for a variety of purchases: ". . . very convenient to use when I was buying furniture as our property is rented out furnished."
Getting started is easy. To enroll, open and fund your Entrust account (if you don't have one already) and use the Entrust Client Portal to request a myDirection Prepaid Visa® Card. Once you start using the card, managing your transactions is as easy as logging in to the secure Entrust client portal to view card activity and track your expenses.
Read more about the myDirection Prepaid Visa® Card by clicking the image below.